You may have seen the cover of Find Your Creative Mojo in bookshops, library shelves or around on social media, but the distinctive red cover didn't start out that way.
I'm going to take you behind the messy, yet interesting scenes of how a book cover comes about. I'll go right back to my early ideas for Find Your Creative Mojo right up to the final product that's on the shelves of bookstores and libraries across the country.
In the beginning there was a sketch of a drunk man lying on the floor.
I love tinkering with cover ideas for my books, so when I started writing Find your creative Mojo, I had in mind it would be square pocket book size, similar to Austin Kleon's, Steal Like an Artist. So everything was laid out with that format in mind, including the cover. I loved the little illustration I'd done with the drunk guy on the floor and thought it would look great on the cover.
Having a basic cover idea helps me feel like it's a real book. However often I'd spend more time messing with the cover than writing that actual darn thing. Talk about procrastination!
However Diane Evans at Big Sky Publishing said she thought the book would be stronger as a normal paperback size as it would be easier to position in a bookshop. Those square 'gift book' types tend to get lost on the shelves.
Now I had to go back and change my cover idea completely. The only element that I kept was the colour red. I also rewrote the strapline, changing it from 'A pocket guide to unleashing your creative passion' (as the whole pocket guide thing was now thrown out the window)….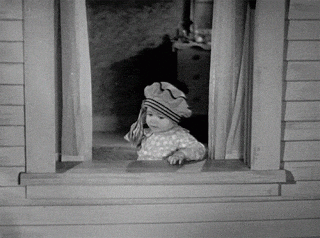 ……to 'Giving you the courage to overcome fear, procrastination and self doubt'. I redid the illustration to better reflect the strapline. It looked cuter too.
The Octopus Test
Big Sky Publishing thought my cover idea was a little soft and needed to have more shelf shout ie jump out from a bookshelf like the way an octopus would leap out and grab an unsuspecting prawn.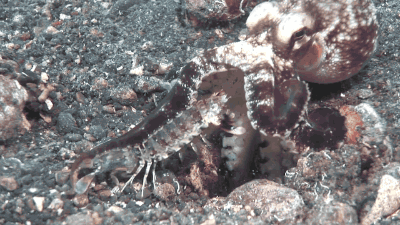 They then briefed the design team who created 4 different options, including a version similar to mine to appease me.
I find it hard to imagine what the cover will actually look like in situ, so using my best dodgy word.doc skills I found a Google photo of a book shelf stand and superimposed the different covers to see what the shelf shout is like.
After an email chain the length of the Nile, we agreed none of them had any shelf shout that could reach out and snatch a prawn, let alone a person. It was back to the drawing board for the design team. Actually it was one person and his name is Chris, and I think he's awesome.
Chris came back with this fab new cover idea which I think you'd find very familiar. We rewrote the strapline to deliver a bigger promise to the reader and also fine tuned some of the elements. See if you can spot the differences.
And then that's it, final cover design done and dusted. While it's very different from my initial idea, I always giggle like an excited 5 year old whenever I see the cover anywhere. It's a great feeling.
How important shelf shout is..
"Actually, I was in the spiritual section of a book store and the title called to me. Then I read the foreword and decided this is what I am looking for right now. Ploughed through it in about 6 hours couldn't put it down! Laughed and had many light bulbs."– Candice Dianna, Singer Songwriter.
" The colour red and title jumped out and grabbed me at the Kiama library." – Liz Shaw
Find Your Creative Mojo is available from all good book stores or online at Dymocks, Angus and Robertson, Booktopia and Book Depository.